Finally, full service healthcare for seniors comes home.
Get fully integrated, one-on-one care under one roof: Yours.
For seniors and their families, healthcare is complex, frustrating, and full of isolated worlds. Your primary care physicians, specialists, pharmacy, and medical devices all coexist, but they don't connect to care for you cohesively. We are here to change that.
Think of us as a personalized healthcare sherpa, here to guide you and your family on how to thrive at home and manage the complexities of your chronic conditions and aging. We deliver this through an integrated model of physicians, advanced practitioners, nurses, care aides, and specialized pharmacy built for complex medication regimens and the latest in-home technology.
What does this look like to you?




Physicians and advanced practitioners who visit you in your home, coordinate care with your existing trusted physicians, and are highly accessible to you and your family.
Home delivery of medications in specialized packaging to help you manage your medications. Plus, free recurring counseling for you and your family with a pharmacist
In-home technology for your unique conditions that continuously monitors you to keep you safe and alert your care team of a change in your condition
High-quality personal care aides provided by our fully-owned personal care company, At Home Harmony.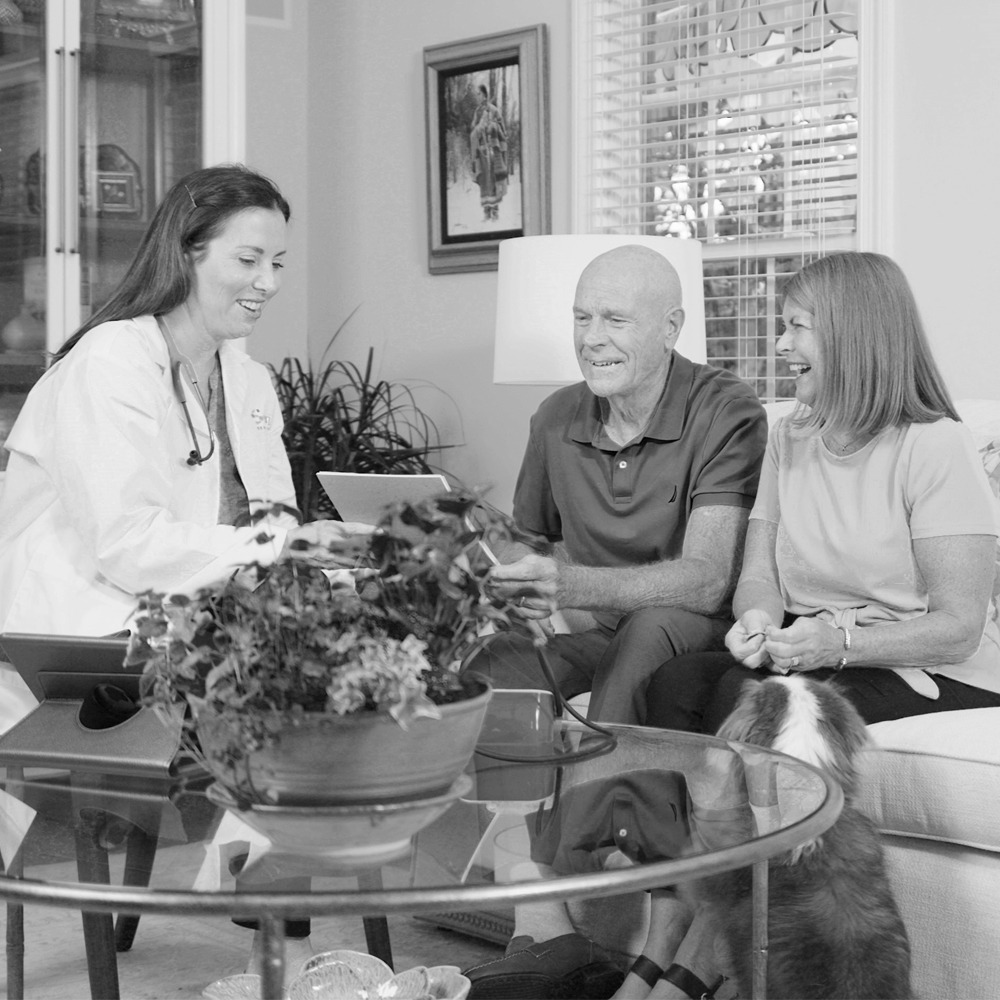 We come to you.
Join our At Home Harmony Family Today!
Our experienced team of caregivers, registered nurses, and pharmacists can't wait to help you or your loved one live safely, happy, and healthy at home.
Fill out this form, and someone from our At Home Harmony team will reach out to schedule a consultation.
Comfortable, patient-centric care brought to your home.
+50%
More than half of older Americans say it is likely they will need care in the future, and most want to receive that care in their own home.
45%
Most seniors over 65 consume 5+ prescription drugs and nearly half (45%) of older adults with prescription drug coverage say they have experienced various problems accessing prescription drugs due to cost or coverage issues through their drug plan in the past 12 months.
75%
Approximately 3/4 of seniors over 75 years of age have 2+ chronic conditions (such as diabetes, heart failure, hypertension or COPD).
43%
43% of Americans have either past or current experience providing long-term care to a family member or close friend. Among those with experience as caregivers, 4 in 10 report having to miss work to provide long-term care to a loved one.
Care Preferences Among Older Americans
*These statistics were pulled from American Senior Statistics for 2021
Prefer to receive care at a nursing home

4%

4%

Prefer to receive care at a friend or family member's home

4%

4%

Prefer to receive care in a senior community

11%

11%

Prefer to receive care in their own home

77%

77%
Hear What Our Clients Think
Daily Medication
"I take 8 pills a day. The dose packaging At Home Harmony delivered my drugs in makes it so much easier to keep track of them, and I love that my medicine is delivered to me at home."
Devices in the Home
"The At Home Harmony care team has been monitoring my blood pressure and calling me to discuss my results. They even text my son updates, which gives us all peace of mind."
Highly Recommended
"After contacting At Home Harmony for my mother, the At Home Harmony Physician Assistant and Social Worker developed a plan that addresses her conditions and gives me peace of mind she is being continuously cared for. At Home Harmony has simplified her medication regimen, and the pharmacist is immediately available to us when we have questions. The technology is easy to use, and I love getting daily alerts that keep me in the loop regarding her conditions."