Learn how At Home Harmony can help seniors age in place. Read Our Most Commonly-Asked Questions
Your loved ones' care is important to us. We are happy to answer any questions you may have to offer you peace of mind. Here are some of the most common questions we receive.
What will your services cost me?
All our medical and pharmacy services are covered by Medicare. We participate with all major Medicare Advantage and Prescription Drug Plans and commercial plans other than Caremore for in-home primary care services.
Can I keep my current primary care doctor?
Yes! We collaborate with your trusted primary care physician and specialists through our technology platform. Our physicians, advanced practitioners and pharmacists will reach out directly to any existing doctors you identify if you experience a change in condition or require an update to your care plan.
Can my family be included in the process?
Absolutely. With your permission, we will send regular updates and alerts to your approved loved ones to keep them updated on your conditions. They can also be present at your in-home assessments.
Will At Home Harmony provide services to me if I live in a senior living community?
Definitely! We have a lot of experience in senior living. Our services complement life in senior living communities very well, and we have many senior living community partners.
Are you a senior living provider? We can partner with you in a few ways:
We can become an Assisted Living community or Group Home's pharmacy partner. We're the local pharmacy packaging, delivery, and compliance solution that builds our service to meet each community's specialized needs.
We can partner with a CCRC or Independent Living community to make our services available to their residents. IL communities love us because we offer an additional layer of care they sometimes cannot offer. A senior can move into an IL building that only leases apartments, then we fulfil the medical and pharmaceutical needs.
Do you only provide services for seniors?
Our services are also a great fit for individuals who are disabled.
How do I enroll?
Contact us at 804-210-3103 to schedule a FREE, no-commitment assessment, and we can get started building your Harmony journey. You can also fill out a contact form and we'll get in touch soon.
Hear from our satisfied seniors and their families.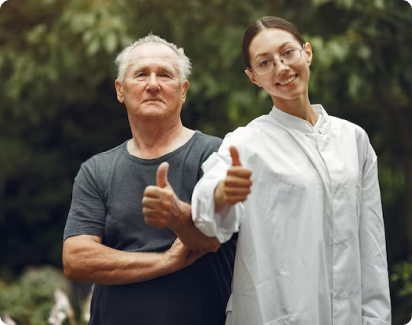 Thanks to the daily monitoring of blood pressure, we were able to make a call to Mrs. Jones' [name changed for client privacy] cardiologist due to a sudden change in a trend of elevated blood pressures. These levels were abnormal from her typical trend in pressures. Mrs. Jones' cardiologist requested an urgent appointment for the patient. During this appointment, a holter monitor and further testing was ordered. Ultimately, there was a change made to Mrs. Jones' blood pressure medication by At Home Harmony's pharmacy, which resulted in improvement in the pressures and placed Mrs. Jones back at safe levels for her blood pressure. Mrs. Jones remains happy at home under the At Home Harmony care model!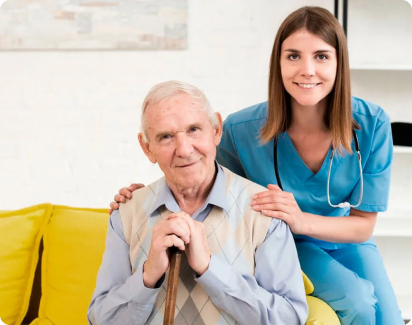 Mr. Smith [name changed for client privacy] is a client whose health had declined for a few months prior to joining our model. He was having trouble sleeping, he was feeling foggy during the day, and was experiencing a bit of dizziness. Mr. Smith had been recently prescribed a sedative by his clinician. When our pharmacist had her first consultation with our client, she noticed Mr. Smith was taking this sedative in the mornings, causing these symptoms. Once the At Home Harmony pharmacist packaged his medications in our Dose-Pop pack and adjusted the time of day he was taking this medication, his dizziness went away and his family noticed an immediate change in his alertness. Mr. Smith remains a satisfied At Home Harmony client!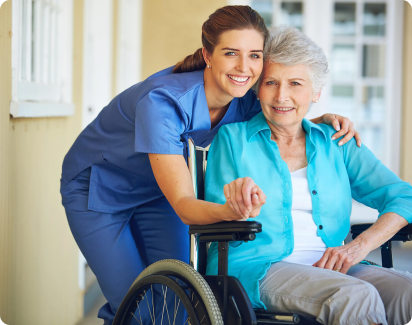 During Ms. Hill's first in-home assessment with our provider, she started immediately feeling faint and dizzy. Our clinician checked her vitals and realized she was in Atrial fibrillation, often called AFib, and needed to be admitted to the hospital immediately. Ms. Hill was sent to the hospital for a procedure to address her condition but was able to return home the next day. Our clinician returned to Ms. Hill's home for a follow-up visit, reviewed her hospital stay outcomes, and set Ms. Hill up with the At Home Harmony wellness monitoring technology so we can keep a close eye on her blood pressure. The clinician was able to walk across the hall to speak with the At Home Harmony pharmacist to adjust her medication, ensuring she remains at healthy levels in the future. Thanks to the integrated care model At Home Harmony offers, Ms. Hill is safe and happy at home today!
Read What Our Clients Think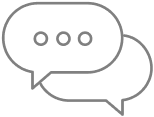 We will always be accessible to you and your loved ones to help answer questions and provide guidance on your care plan.

We pledge to be a trusted partner in your care, wherever you call home, with a commitment to transparency and integrity.

We combine new advances in healthcare with the warmth and compassion of real people you can rely on.

We're here to integrate all the services you need for a healthy life into one place, saving you time, energy, and stress so you can focus on what matters.
Learn How To Become Our Patient.
Begin Your FREE Consultation Today.
Our experienced team of medical providers, caregivers, registered nurses, and pharmacists can't wait to help you or your loved one enjoy a safe, happy, and healthy life at home.
Fill out this form, and someone from our At Home Harmony team will reach out to schedule a consultation. You can also call us directly at 804-210-3103.